Unfortunately we can't stop the time, but we can definitely cheat away a few years with these simple beauty tricks and look younger and fresher in short time – without Botox at all.
For a youthful look it is important to look natural
If we have too much make-up, unfortunately it does not make us younger.
No, on the contrary, it makes us look much older. Because dark colors and smokey eyes look great at 20, but unfortunately are no longer so advantageous after a certain age.
The eye area loses its firmness over time, the make-up can settle unfavorably in the wrinkles and drooping eyelids are accentuated.
Make-up as a miracle weapon? Yes, of course! It can definitely make us look younger.
Used correctly, it can even make us look more awake and slimmer.
With these make-up tricks we reveal how wrinkles can be optically concealed and how they look fresher.
Moisture is everything in order to look younger
Please don't forget: first, after our mild facial cleansing, we need a good moisturizing cream.
Because if we don't provide our skin with enough moisture, the whole great make-up is useless. The skin looks dry and pale and makes us 10 years older.
Prepare face
With a wrinkle filler cream we can conjure away a few years. It is particularly important before we apply make-up. Without wrinkle filler cream, make-up likes to settle in the fine lines.
Wrinkle fillers often contain smoothing waxes and oils with light-reflecting particles and matting silicic acid. This has the positive instant effect of a soft focus.
The right primer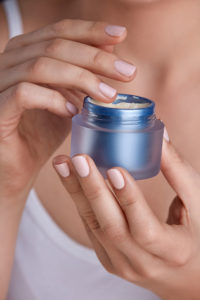 A natural, fresh and radiant complexion is the key to a young appearance. For this we need a perfect foundation.
If the skin is demanding, it sometimes needs a little more care and coverage.
Choose a rich anti-aging skincare with reflective pigments
That scatter the light and cover the wrinkles or a foundation with a sun protection factor. The color should perfectly match the natural facial tone, because then you don't necessarily have to cover the entire face.
Please do not apply too thickly, this is the top priority for mature skin!
A little highlighter directly above the cheekbones and on the forehead make the complexion glow even more.
From now on we should do without matt textures. They look dry and doughy on our skin.
Liquid concealer, a must for a younger look
Dark shadows or rings under the eyes can be perfectly covered with a liquid concealer. It should definitely be a shade lighter than the rest of the make-up.
We choose a concealer that can be applied with a brush or applicator
Because it is easier to dab on the sensitive areas and pat in with the fingers. In this way we can avoid future wrinkles under the eye.
Dab on thinly in the inner corner of the eye and under the eye and veneer.
For a more alert eye we apply some of the liquid concealer under the eyebrows and on the unpainted eyelid. This optically brightens the eye area and makes it brighter.
Dab the nasolabial line around the mouth with concealer, carefully pat in with your fingers and blend. The nasolabial wrinkle thus looks less deep.
Beautiful eyebrows
Over time, the eyebrows become thinner and sink. With the right technique an optical lifting is possible. Brushing up the eyebrows (remove wildly growing hairs below the eyebrow arch and pluck the last third a little narrower towards the end). Finish the finer hairs with brow powder and brush. This looks natural.
Thickly dashed bar eyebrows are rather unfavorable.
However, if the eyebrows have become too thin, there is a possibility to strengthen the eyebrows permanently. The new trend is called Microblading to strengthen eyebrows or Microshading, which is supposed to look even more natural. Only individual points within the eyebrow are filled with permanent make-up.
Sometimes eyebrows develop to become more asymmetrical with age. Which is no problem at all, because eyebrows are not twins. They are sisters and are allowed to differ.
Emphasize contours
Our skin tone unfortunately loses its natural luminosity over the years. A touch of rouge brings back the youthful stealing. A delicate apricot or rosewood shade suits most women and it's also quite simple:
Just smile before applying
No joke, because this lifts the cheeks and creates a slight hollow under the cheekbones. With a big brush stroke the rouge back and forth along the hollow and finally put a little rouge on the cheeks. If you like, you can also put some highlighter on the highest part of the cheekbones and on the bridge of the nose.
A little shimmer makes the rejuvenating effect even more intense
Make up your eyes properly
As soon as the finest wrinkles are visible on the eyelid, we should use some primer under our eye shadow. Without a primer, eye shadow always magically finds its way into the wrinkles. The best way is to choose natural and nude tones for the eye shadow.
A finely drawn eyelid line visually thickens the eyelashes
Then we give our eyelashes the necessary momentum with the eyelash curler. For an optical eye lift we use a carbon black mascara.
We use length instead of volume!
For an open look, we opt for a mascara that promises more length. Voluminous mascara would make thin lashes, and unfortunately our lashes become thinner over time. They are not able to carry the weight of a volume mascara.
Beautiful lips
In former times lips were a matter of seconds, because every color fit. Only from 40 on matt and dark tones are unfortunately unfavorable. They make lips look thin and hard. And nude tones make our complexion look pale and dull. So we use brighter and friendlier colors like rose, rosewood and apricot.
A little transparent gloss to go with it
It looks fresh and gives volume. We first trace the edges with a neutral outline pencil and slightly blur the outline for a natural look.
Let's present our lips youthful and fresh, fingers away from trends and towards classics!
Underline your benefits and you will look younger and fresher in a subtle way, because an open, alert and appealing face with a radiant complexion is not a question of age.
Look for more information: https://www.pinterest.com/womenoverforty/make-up-tips-for-women-over-40/