Some men shower us with compliments – and far too seldom do we return the favor.
But also men loves to get compliments and admiration from us from time to time.
Even the supposedly strong sex enjoys loving and appreciative words when it gets the feeling of being loved, appreciated and respected.
Give your loved one nice compliments more often – of course the right choice of words is also important.
These compliments may be simple, but their meaning is very large.
You'll be amazed at the effect
Thank you
Is your husband dragging the heavy shopping bags, cooking, vacuuming the dust or bringing the coffee to your bed unasked? We shouldn't overlook these little gestures. Remember to show him a little "thank you" on a regular basis. Show him that these attentions are not self-evident for you. And besides, if we thank him regularly for something, men will do something for us again much sooner.
I love you – one of the very best compliments ever
This makes the hardest man melt when his partner confesses his love for him. Men love to hear you love them. They also like hugs, kisses and cuddles. Even a well-formulated text message works.
I want you
Give your husband a compliment in the morning, how hot you find him and offer him a tingling adventure in the evening. Or send him a little message during the day that you can't wait to have him with you afterwards. How much do you think he likes coming home in the evening?
Because there are moments when men want nothing better than for the first step to come from us. So you show him that you feel attracted to him.
I respect you
Men love to be admired and respected by the people they like, like friends, colleagues and their family. But most important to them is the respect of their partner. And that with all her weaknesses and preferences.
I'm proud of you
The self-confidence of men increases when they approach the goals they have set for themselves, be it in the job or in the sporting field. When they get the support of their partner, they feel taken seriously and valued.
More compliments – great, how you did it
Every man thinks he's a skilled craftsman. If you tell him that and honestly mean it, you give your husband a good feeling and he feels encouraged to try himself out further.
I trust you
A little jealousy shows interest, but too much shows lack of trust and hurts the partner. This makes him insecure and withdraws.
Give him the feeling that you trust him. This strengthens the relationship and brings new security.
You're the best
Use superlatives! "Our sex is simply madness", give him the feeling that he makes you happy! Your husband will float on clouds. You're welcome to give him more compliments like that. You won't regret it.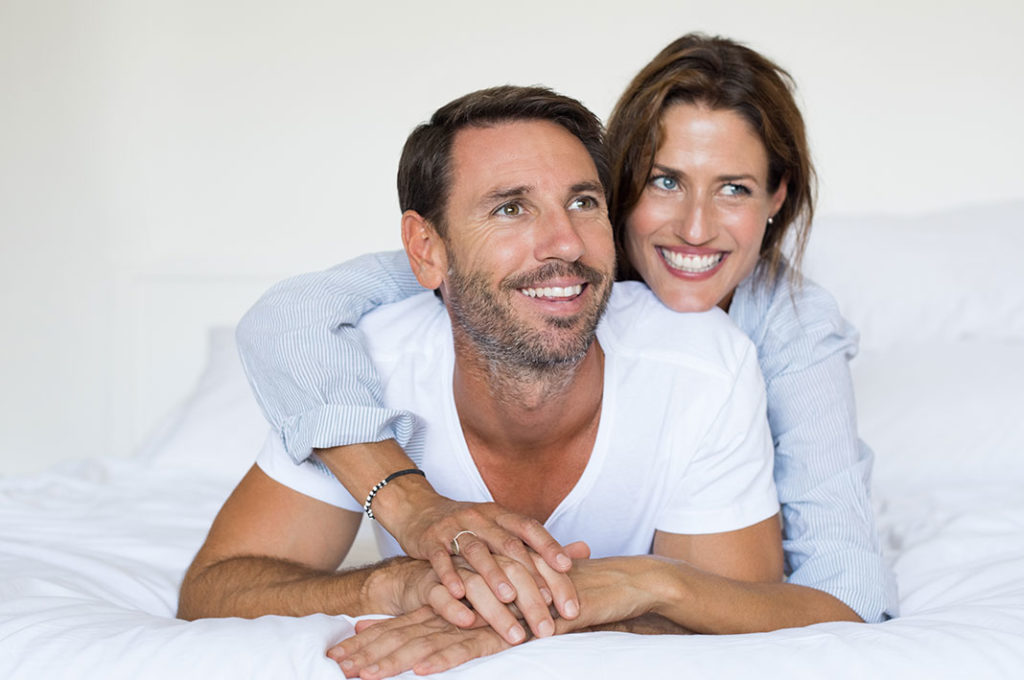 I stand by you
A difficult task, the boss makes trouble or the buddy stresses…
Strengthen your partner's back and tell him clearly that you are fully committed to him and that he can fully rely on you.
I feel so safe with you
You're flattering his protective instinct. The compliment shows him that he radiates strength, security and sovereignty. Wow.
You can tell me anything
Many men prefer to worry about themselves and seek solitude to think about things or distract themselves. Or it's just embarrassing to show them feelings. Make it clear to him that he will always find an open ear with you when he is ready to talk and has nothing to be ashamed of.
But very important: Don't go directly to the ceiling when he opens up to you!
You make me happy
Are you happy in your relationship? Even if your first infatuation has already subsided and you have been together for some time. Appreciate your common happiness. Tell him when he makes you happy.
You look great
We always like to hear that when our partner finds us attractive.
Does he regularly go to strength training and eat more consciously? Men also enjoy praise for their appearance and compliments serve as a reward for hard work and motivation to continue.
How you phrase the compliments exactly is of course up to you.
Each couple ticks differently and each communicates in its own way.
The best compliment, however, is a very individual one that you can't give to anyone else.
Does he have a lovable characteristic from which you are all over the place? Tell him, provided it's honest.
If you like to read more like this: https://www.pinterest.com/womenoverforty/relationship-tips/